Foil Stamping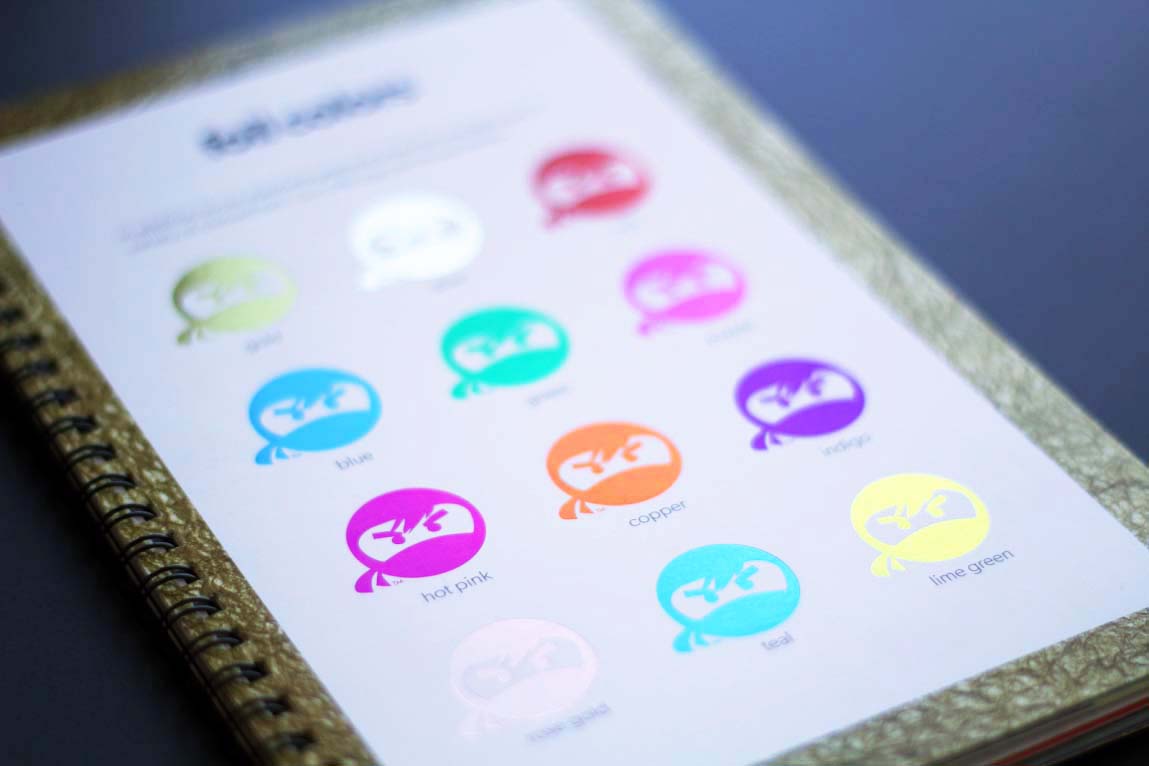 Foil stamping is any easy way to catch the eyes of consumers. The process uses a heated die to transfer metallic foil (most popularly gold or silver) onto a printed or unprinted sheet. Watch the process in action.
Basic foil stamping includes gold or silver foil in an area up to 4″ x 4″. For larger foil stamps, foil stock, metallic ink or to use multiple foil colors as seen to the right, please request a custom quote.
Scroll down for our foil stamping design guidelines or click here for our Foil Stamping Setup Guide.  PrintNinja also offers Sequential Foil Numbering, which makes each piece of your run unique.

Please note: Due to the variations inherent in the manufacturing process, the foil colors will vary between print runs.
Pricing
Request pricing for this add-on by checking the appropriate box on our quoting calculator. More complex or extensive specialty options can be requested while you lock in your quote.
Shifts in Placement
There will be minute variations in the placement of the foil stamp from one copy of your project to another, ranging from 0-2mm. For this reason,  you shouldn't duplicate any printed text or shapes with foil. Instead you should remove the printed version of the text or shape from your underlying art file and just use the foil itself.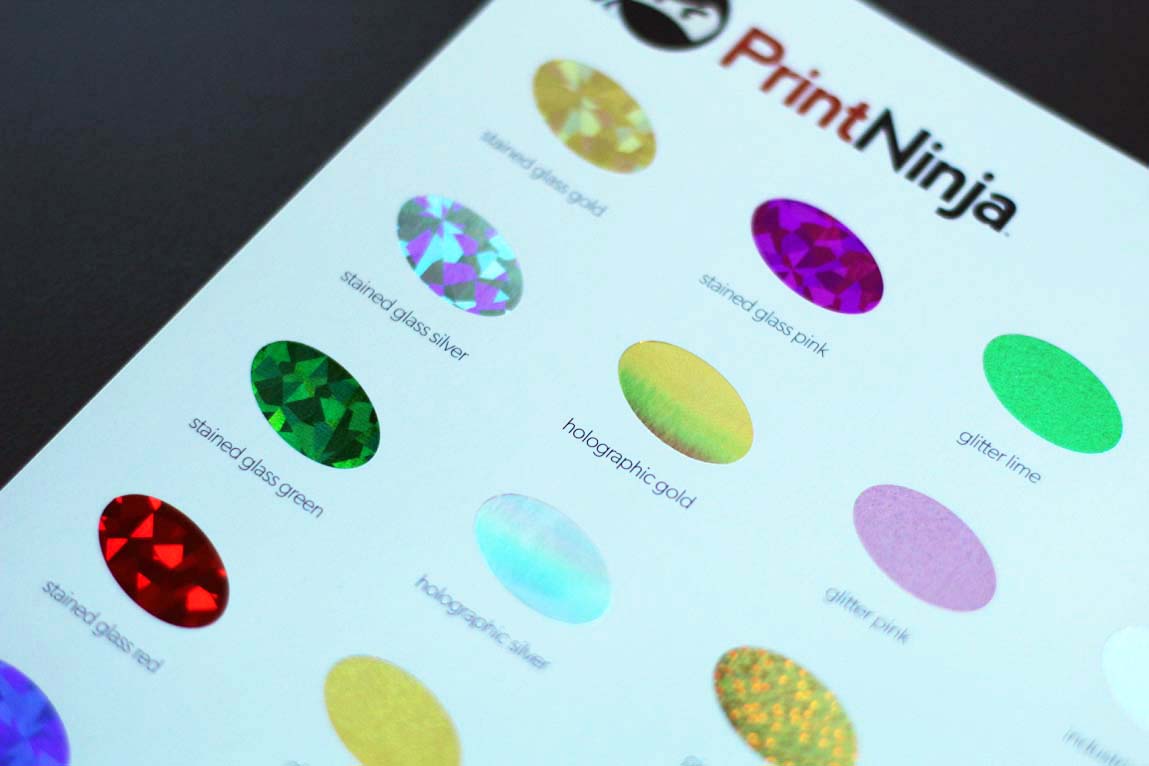 Holographic Foil
Holographic foil is a foil printed to have the apperance of a three-dimensional image. We offer many designs, colors, and depths.
Fragility
The material used for hot foil stamps is extremely delicate (think aluminum foil, but 100 times thinner). Because it's so delicate, fonts or line-work that clock in below 1mm in thickness (2.83 Adobe points) are unsuitable for hot foil stamping and may crack or flake off without much wear and tear. We recommend all areas to be foil stamped have a minimum thickness of 1mm. If your files contain foil stamped areas that are less than 1mm in thickness, and you decide to proceed without making changes, we cannot take responsibility for quality defects associated with the foil stamping.
Scratching and Scuffing
Due to its fragility, foil stamping can scratch and scuff easily. If you're planning on covering large, unbroken areas of your covers with a foil stamp, beware of scratches and scuffs damaging the stamp during shipping and general use. Our standard is to place the foil stamp on top of the cover finish but we can place your foil stamp underneath either a gloss, matte, or anti-scratch matte lamination to protect it from damage,  if requested.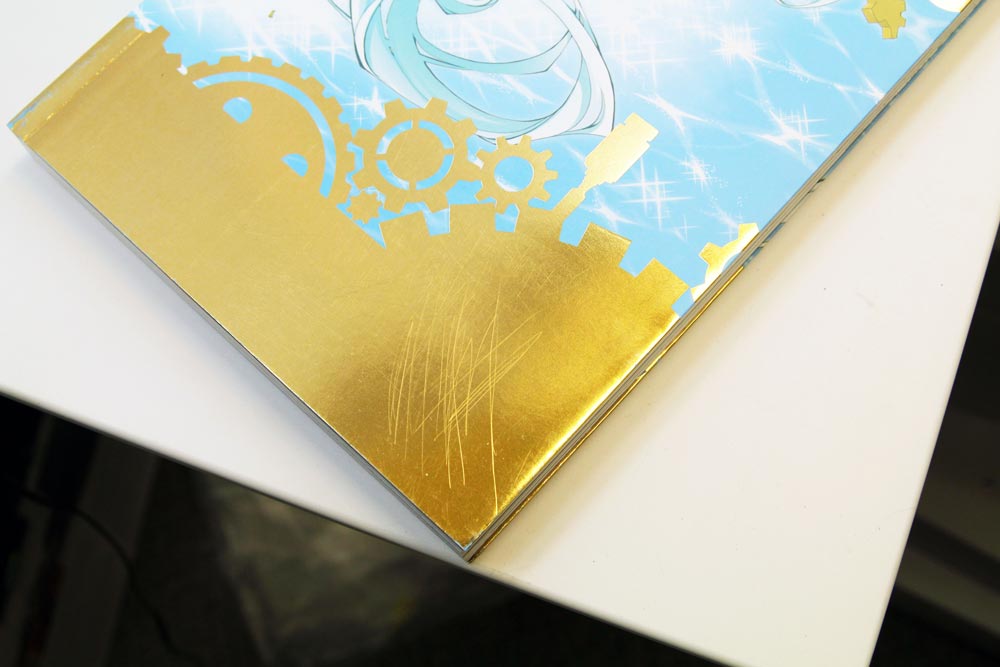 Over Lamination
The unprotected foil stamp here shows scratches and scuffs easily.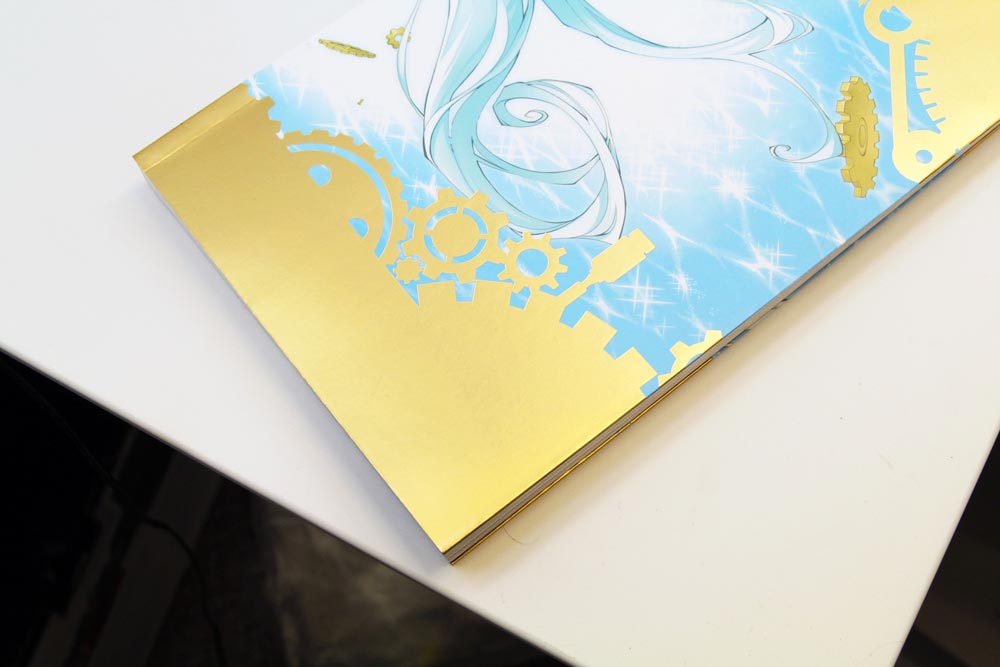 Under Lamination
A matte lamination is used here to protect the foil stamp and provide extra durability over time.
Gradients and Textures
Because the material used for foil stamping is a solid and not a liquid, there may not be any gradients or textures present in your foil stamp mask files. If you're wanting a gradated or textured metallic effect, you can request a custom quote from us including metallic inks.
Embossing with a Foil Stamp
If you're foil stamping an area that's also being embossed, we will automatically add a lamination of your choice (gloss, matte or anti-scratch matte) on top of your foil stamped covers in order to protect them from scratches and scuffs. If you choose to use a matte lamination on top, your foil stamp may look less shiny than usual, but will remain unscathed by the elements. All foil stamped or embossed areas in your mask files must be at least 1mm (2.83 Adobe points) thick.
Debossing with a Foil Stamp
Foil stamping an area that's also being debossed is much easier than foil stamping an area that's being embossed, and so the design limitations are smaller. We do not require an extra protective layer of lamination to be used on top of a debossed foil stamp. The only stipulation here is that all foil stamped or debossed areas in your mask files must be at least 1mm (2.83 Adobe points) thick.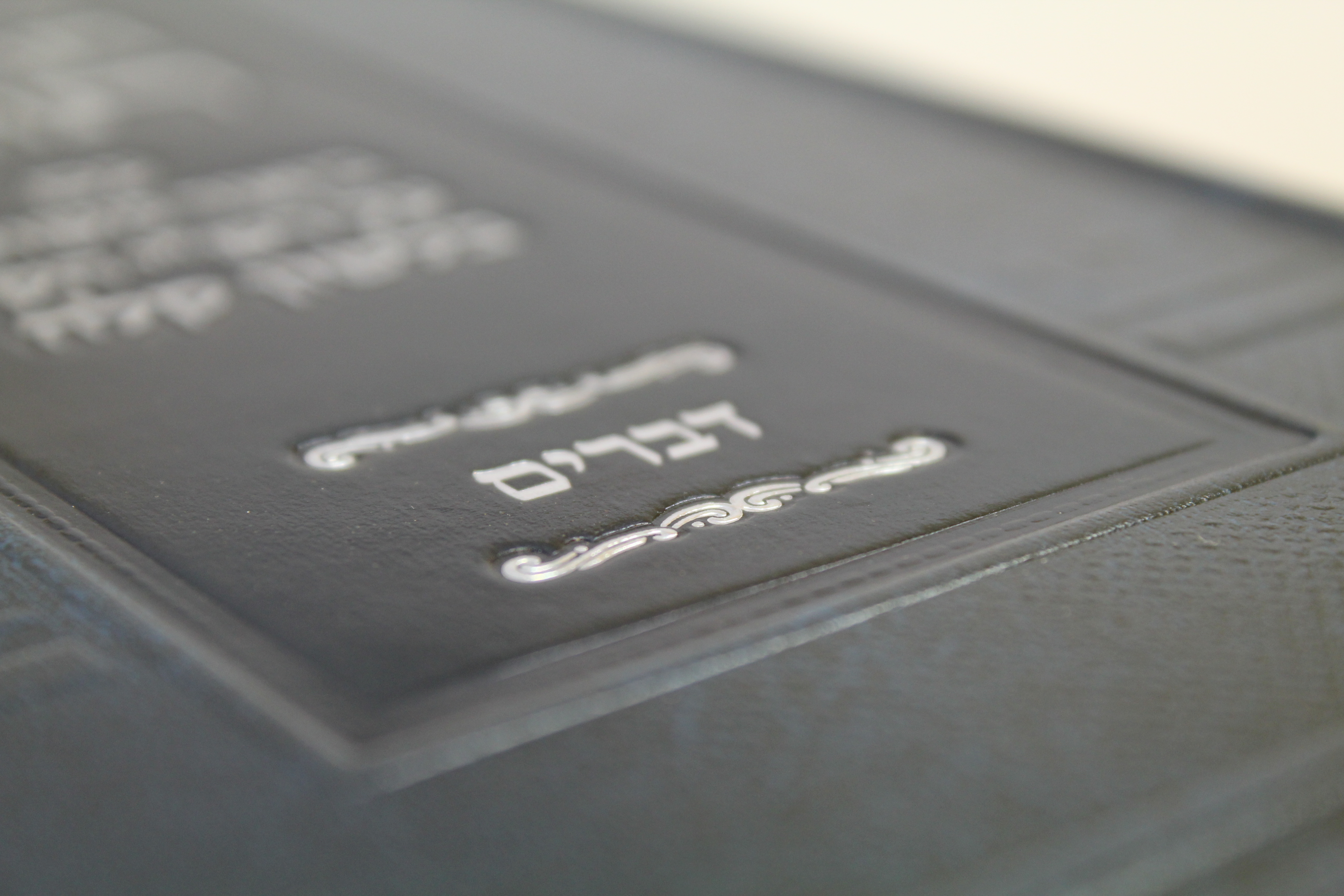 Foil Stamping With Emboss/Deboss
Debossing is the preferred method (over embossing) for creating depth in a foil stamped area.