Freight Forwarding Quote
For very large / heavy orders, PrintNinja can often decrease your shipping cost by using our network of third party freight forwarders.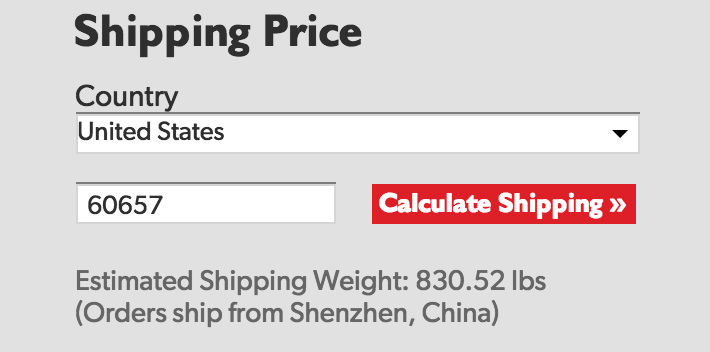 How To Request A Freight Quote
You can request a freight quote through our online calculator. Once you input all the information for your project and calculate your shipping cost you will see an estimated shipping weight, as seen to the right. If the weight is higher than 2500 lbs the calculator will provide a freight forwarding option. If your weight is lower then 2500lbs, our standard or expedited shipping is perfect for your project.
Freight quotes take us approximately 1 week to price.
What's The Difference?
Our 'standard' shipping option goes via an ocean shipping pathway provided by UPS.  All of our standard orders come in to the USA through our port in California and then are split out and shipped to you via UPS Ground and UPS LTL services.
However, with heavier / larger orders (typically over 2 cubic meters in size / 2500lbs in weight), it can be much more cost-effective to use a company known as a freight forwarder that will choose the most efficient combination of Ocean, Truck, and Rail to get your shipment directly to you from the factory in China.
Because the route taken will vary widely depending on the size of the order and the destination, all freight forwarding quotes must be custom quoted.
The Downsides:
Freight forwarding typically takes an extra week to arrive compared to our standard shipping option.
There are no tracking numbers available with a freight forwarding company as there are with UPS, FedEx, or DHL.
The Upsides:
Make no mistake, once your order gets above 2 cubic meters in size, we can save you a lot of money by using our freight forwarding network.  Almost all of our very large orders use this option.