Paper Finish
PrintNinja offers various types and styles of paper finish. Paper finishes are applied after printing, and are usually only applied to a project's cover. Finishes each have a type (e.g. varnish or lamination) and a style (e.g. gloss or matte).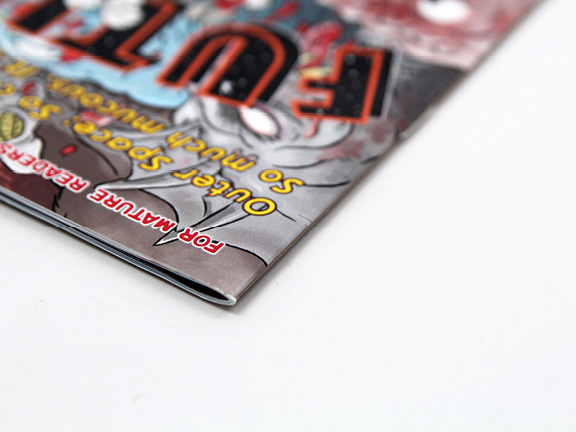 Varnish:
Varnish is a liquid finish applied via the printing press to seal in and protect the ink on the printed surface. It is available in gloss, matte, and UV, and is usually matched to the coating of the underlying paper. Varnish makes sense as a cover finish for saddle-stitched products like comic books and magazines.
Note: UV Varnish is very fragile when used as a cover finish, and can crack easily. For a high-gloss shine we recommend gloss lamination.
Lamination:
Lamination is a thin polypropylene film applied to the surface of the paper after printing via a roller. It provides the ultimate in protection, and is available in both gloss and matte. The sheen and texture of lamination is much more pronounced than varnish, and gloss lamination is very shiny, while matte lamination is very smooth. Perfect bound and case bound books should always use a lamination for their covers to prevent any damage to the printed surface during the binding process.
No Finish:
Not all projects require a finish, and if your project is saddle-stitched, without heavy ink coverage on the cover, you can choose to skip the finish altogether.