Selling Your Game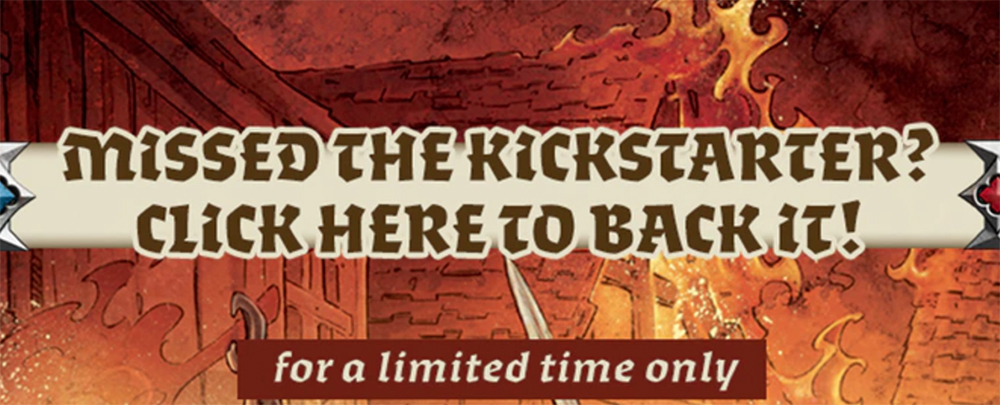 You put a lot of work into your Kickstarter campaign, and it paid off! You met your funding goal and fulfilled all your backers. Now it's time to take the next step and make sure your game gets in the hands of players beyond your backers.
You can take direct sales into your own hands, or find a partnership with other individuals and companies to sell for you, or both. Here are things to consider when planning your game's post-Kickstarter life.
Your Kickstarter Page
Your Kickstarter page continues to exist after your campaign ends, and is a juicy resource. Because your page had a lot of traffic during your campaign it's likely it ranks high on Google's first page when searching the title of your game. This means it will continue attracting traffic, potential customers, so it's important you control what they see.
You can edit your Kickstarter page throughout your campaign, but once you hit your funding deadline the page locks, and can no longer be edited. Update your page on the last day of your campaign into a marketing tool: make sure the top of your campaign features your elevator pitch, and a link to the game on your online store.
E-commerce Solutions

You'll want your game available on your website as soon as your campaign ends. Set up a pre-order or buy button on your Kickstarter to direct users to your site or the third-party site that's selling your game. If you plan to sell your game through your personal site you'll need a plugin or service that can accept money from buyers.
Shopify has been hailed as the best e-commerce platform for independent sellers. Shopify is a platform for building your site and selling your products. If you already used a free site builging tool to create your landing page then consider finding a plugin instead of rebuilding.
PayPal is a common plugin choice since it has the most users and charges minimal fees. Their plugin is compatible with almost all platforms and services online.
Stripe is a platform you may have used before as it's Kickstarter's choice. It's beautiful, functional, and extremely secure, but you may need to know a little about coding to implement. Stripe has teamed up with a lot of big name website building sites to offer a plugin.
WooCommerce is a WordPress plugin that can transform your site into a selling machine with pre-built themes that you can use to tailor your shop.
WP eCommerce, another WordPress plugin has focused on streamlining the checkout process to increase your conversion rate.
Ecwid can be implemented on any site, no WordPress necessary, and the syncing between multiple devices feature means you'll have no problem selling on the go at conventions.
Do your research, check out more e-commerce platforms and plugings.
Does Your Game Have Visibility?
Unless you're already famous and popular, not a lot of people will discover your game's website through Google search – unless they type in your game's name. Most likely they will learn about your game through other sites like Kickstarter, Outgrow.me, Stumble Upon, and Amazon Launchpad which can direct players to your personal website.
Make sure you continue to get your game in front of your fans faces, even if it's through a computer screen. The hard work is not over, a few ways to get publiciy is by posting your game on websites(especially the ones we listed above), solicte reviews, and sponsor tabletop game videos/podcasts.
Getting Your Game Into Stores
Online sales may be enough for you in this digital age, but if you have a healthy stock of games, you'll need to sell your game to stores…or be stuck with copies of your game for all eternity!
Retail Packaging Standards
Before thinking about how to get your game into stores, first you need to make sure your packaging meets retail standards.
Some easily forgotten items that you'll need to have on your game box:
Game designers name
A key that lists time it takes to play, number of players, and age limits
Licensing and credits
Image of all piece included in the game box
Barcode
Legal Information(Copyrights, Made in China, Child Safety)
Pricing
Shelf space is hard to come by; you'll have to make it worth the retailers while to put your game in their store.
This means coming up with MSRP (manufacturer's suggested retail price) that works for both you and the stores. The MSRP is the price stores will sell your game for. You'll want to do your research on MSRP because this is how you'll make your money.
Board games typically have and MSRP that's 5 or 6 times the manufacturing cost, but you'll want to compare that number with other games that are similar to yours in terms of components.
Ok, you have your MSRP, now how does this all work? Distributors and retailers will purchase games from you at a smaller percentage of your MSRP so that they can make a profit. Typically distributors will purchase at 40% of your MSRP and retailers at 50%.
Using those number above and assuming your MSRP is 5x your manufacturing cost, if your MSRP is $50, the retailer will pay you $25 and sell the game for $50 on their shelf. You just made $15 dollars profit on the game that cost you $10 to manufacture.
Those percentages are not hard numbers, the distributor may ask you to lower your cost, and you'll have to decide if you want to take a smaller cut in order to get your game distributed.
Trial Periods
Typically, retailers will start by offering you a trial period to judge demand of their shoppers. You'll need to do some grunt work getting players to purchase your game at these locations otherwise the retailer can reject your product.
Getting Noticed
Distributors and retailers take notice of a game if they receive a volume of calls asking if they carry the game. You may be able to encourage enough potential customers to call their local store and thus triggering the local stores to call their distributors. A lot of this is luck, but you can always make this suggestion to your fans through email or your website copy.
Of course you can and should go the traditional way of pitching to retailers as well.
Be sure to read as much information as you can about a distributor before approaching them. Make sure that your game is an appropriate fit with the company (don't approach a horror RPG distributor, if your game is a card game geared toward kids), and that you understand and are okay with all of their terms. Some distributors have certain minimums of available units, which may be beyond your capabilities.
It's okay to not work through a distributor. You will have to work harder, and may not end up in as many stores, but by communicating with retailers directly, you can build relationships that can be both emotionally and financially rewarding down the road.
There are two ways to get your game into stores, either working directly with stores, or having a distributor sell to stores. Distributors like Diamond, Southern Hobby, and Alliance save you a lot of time and energy you would have spent packing, shipping, and invoicing orders. Stores like working with distributors too, because it means dealing with fewer companies, who are generally more reliable and professional than individual game makers (no offense).
Local Game Store
Start with your local game stores. Connecting with your local game shop builds community, and also allows you to make mistakes in a more forgiving atmosphere, plus cuts down on shipping costs, if you can deliver copies in person. If you're not already familiar with the store, visit it first, and make sure it's the right fit for your game.
Either in person or over the phone, ask if you can schedule an appointment with the store's buyer or manager to show them your game. When meeting with the buyer, be sure to have your elevator pitch down, be professional and polite, and be ready to leave a copy of your game with them. If they don't say yes on the spot, ask them if you can follow up with them in a week. Keep in mind that store owners and managers are very busy. Try to be direct about your needs while being respectful of theirs.
National Game Stores
Since you can't approach every store in the country the way you can your local store, it's important to provide as much of the personal touch to your sales pitch. Research game stores in other cities, and contact them by email. Follow up with a phone call or a hand-written postcard (perhaps one with your game's art printed on the front?).
If you have fans, or friends in other cities, you can enlist them in being your street team. Mail a stack promotional postcards or fact sheets about your game to street team members, and ask them to visit their local game stores. You can instruct them on any key points you want them to convey. Follow up with the stores via email or phone, and be sure to incentivize your street team with something special, like a signed piece of original art, or a surplus reward from your Kickstarter campaign! Creating a street team is a great way of getting the word out about your game to retailers whether you are selling directly or through a distributor.
Events and Conventions
Stores and distributors like it when you take an active role in promoting your game. It shows that you value your game and are committed to making sure it sells. Schedule a demo day at your local game store, or if you're planning on visiting a city, contact shops in advance and schedule a demo or two.
Gaming conventions like Gen Con are great places to spread the word about your game. Whether you are going as an attendee or paying for a booth, you can build community and interest for your board game. Most conventions devote some space to open gaming tables, at which you can demonstrate your game. You can also meet other game makers, game publishers, and distributors. Come stocked with business cards, fact sheets, copies of your game, and a lot of enthusiasm.
Game Publishers and Beyond!
Several successful Kickstarters have been picked up by game publishers to be reprinted. Publishers like to see fully realized games, as it saves them a lot of work and money in developing the game (though don't be surprised if they want to make changes before investing in your game).
Like distributors, publishers each have their own interests and guidelines for submitting your game, so be sure to research them well. Randy Hoyt from Foxtrot Games looks for these ten elements in game submissions.
There are many other ways to make it big after your successful Kickstarter, especially if you plan your games future out as well as you planned your Kickstarter.
Selling your game can be a lot of hard work, but you have invested so much into your game already, it is important that you value your creation by getting it out into the world! With creativity, advanced planning, and hard work, you can build a network of individuals and businesses who will invest in your dream. Through online and brick & mortar shops, your game can find its way into homes far and wide.