Marketing Your Kickstarter
Most Kickstarters have thirty days to achieve their funding goal. This doesn't mean you have thirty days to market your campaign. In reality, most of your marketing work happens before your campaign launches, You should have 90% of the marketing work complete before you launch!
Pre-Launch Marketing Efforts
You want your first day on your Kickstarter to be the most successful. Popularity begets popularity. The more backers you get on your first day the more likely you are to be promoted by Kickstarter as a popular campaign, which will get your campaign listed at the top of lists on the site. This means more eyes will see your campaign, more cursors will click on it, and more people will back it! So let's go back in time, months before you launch your Kickstarter(hopefully that time is now).
Your Landing Page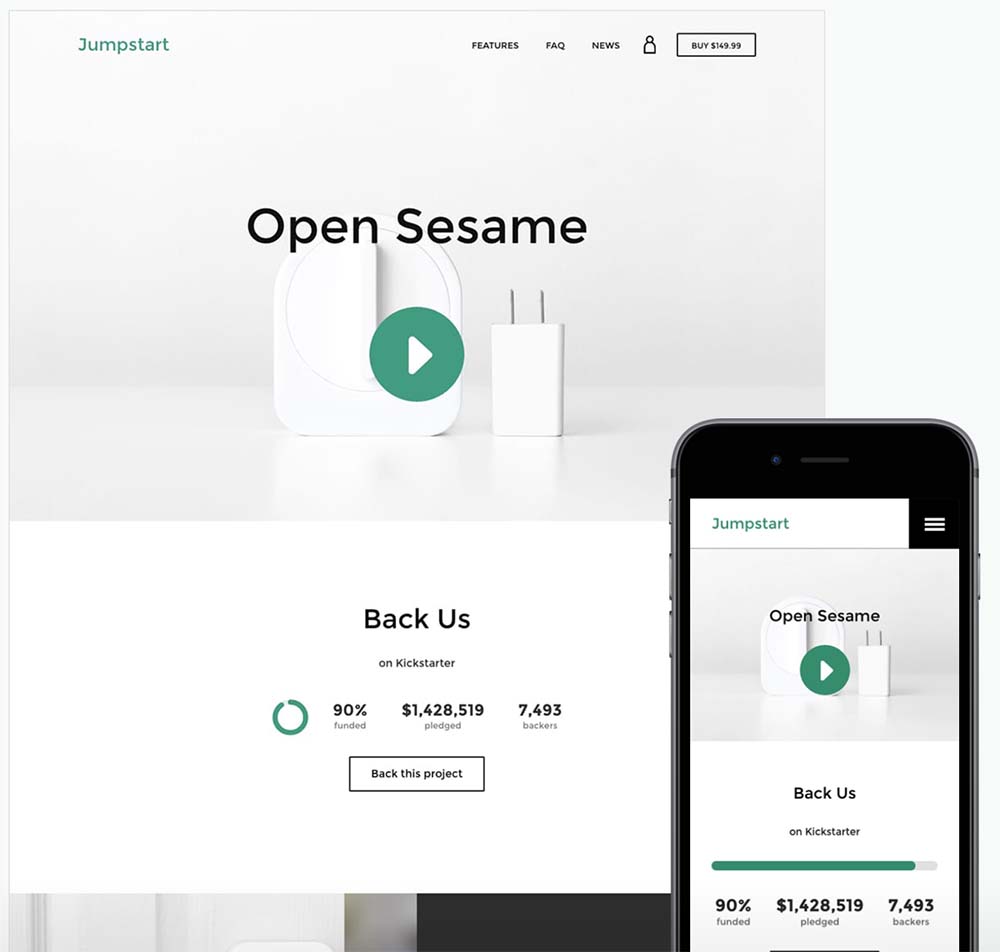 Unless you've been secretly squirreled away from the rest of the world, tinkering like a mad scientist, there's a good chance you've been talking about your game to everyone who will tolerate listening to you. Promoting your game before it exists is great, as long as you can direct interest toward action. The best way to do this is with a landing page.
A landing page is a simple website to which you can direct traffic at all points in your campaign's life. It should have a simple and catchy URL, like www.thenameofyourgame.com. Before the launch of your Kickstarter campaign, your landing page is used to collect email addresses to promote your campaign. During your campaign, the landing page should redirect users to your Kickstarter page. Once the game has been manufactured, your landing page can be used as your online shop.
You're likely familar with website building sites like Wix and Squarespace -both great platforms- but we'd like to add Launchrock to the list. This site builder focuses on providing you
with tools specifically for early customer acquisition, which
is the main objective of your landing page.
If you're planning on selling your game through your landing page post-Kickstarter success then consider using Shopify to setup your landing page. This platform is wildly accepted as one of the best e-commerce platforms, but it's not free. They even have a Kickstarter landing page template you can use.
We recommend having your landing page up and running for at least 3 months prior to launching your campaign.
What to Include on your Landing Page
Keep it simple, you don't need a website that has a java flash game built into your page. At most you need one page with a catchy headline, descriptive product text, a call-to-action and (possibly most important) a great brand design.
1. Your catchy header will pique the interest of your viewer and encourage them to continue scrolling through your page. This is a good place to write your unique selling point. Answer the question what does your game do for me(user)?
2. The whole reason people are on your page is to see your game! Start your page talking about your game mechanics: how long it takes to play, how many players can play, how do you play, how do you win? Show your viewer all the pieces included in your game and if possible offer a downloadable print and play version to build raport with your audience.
Another great way to build a community is to offer your visitors a chance to participate in building your game. Hold a local playtesting event or even a Google Hangouts play testing event where everyone has print and play versions. Getting people involved early is key to keeping them interested and getting them to donate later. You can make it easier for people to contribute by having polls, or a march maddness type bracket to see which characters will survive to make it into your game. Have fun!
Other Website Elements Not to Overlook
Add social media buttons, reviews even if they are from your play testers (see what Jesus said about Utter nonsense!), include events you will be attending so people can meet you in person, and of course note somewhere that this is your pre-launch Kickstarter page.
3. Call-to-Actions (CTA) tell your user what you want them to do. Don't underestimate the power of asking someone to sign up for updates. However, you can do better than that copy and paste CTA. Try "Enter your email for a chance to win a free game!" but don't forget to include *will only receive if Kickstarter campaign is successful.
Since the goal of your website at this point is to capture emails, your "enter email here" box should be one of the first things the user sees. In fact you can have this feature in multiple places on your site, but make sure it's visible. Lastly, don't ask users to fill in a million boxes (address, company name, etc.) remove all barriers to make it as easy as possible for someone to sign up.
4. Your website design acts as a first impression, it can make people laugh, scream, cry or run away, but what it should always do is build raport and trust in those perusing your site. Ever gone to a site that looks like it's from the 90's? We're guessing you immediately hit the back button before you catch a virus. Building a well designed page goes a long way.
A design that reflects the mood and art of your game is the best way to have people remember your project when they see it out of context from your website- say scrolling through Kickstarter.
Landing Page Design Elements
There are many sites that explain what good web design is, but here are the top elements you should consider:
When designing your site make it has simple as possisble, usabilitly is crucial and by having one sliding page that covers all the necessary infromation you can keep people from getting lost in complicated navigation.
Color scheme, don't over do it. A simple White background goes a long way – not that you can't do another color!
White space helps users stay focused as it highlights content and positions it in an astehtic fashion.
Please don't use comic sans, there are many sites with free downloadable font. Choose up to two fonts, one for your headers and one for the rest of your text. They should compliment each other. A font rule of thumb is to choose a serif and a sans serif typeface to mix together – one being the headers and other the body. Most important your text needs to be readable. Stand a distance from your computer and see if you can read your font or clearly distiguish each letter, if not it won't look great at different scales (phones, iPads, etc.).
Your game designer is likely able to put some vector images together and if not hiring an illustrator or web designer is well worth the money since a well designed web page creates trust.
Below are great example of how simple and functional your site should be, covering each of your site elements discussed above – click the thumbnail to visit the site.
Capturing Emails
By now it's clear that the goal of your pre-launch marketing campaign is to capture emails of potential backers and build raport with them before launching.
We talked a lot about your landing page sign-up design above, now let's talk about incentiving it so people will actually give you their 'real' email address. While you hope people like the idea of your game enough to provide you with their email, we live in a world of spam and not the canned kind.
Incentivizing
Encouraging them to give up their annominity can be as easy as a promise that if they give you their email address, they will be entered to win a free copy of your game, or be offered an early-bird special. Get creative and come up with an incentive that relates to your game.
Above, we discuss using your landing page to build a community and you can offer your email subscribers the chance to be a part of that community that helps make decisions about your game. This connects players early and makes them feel invested. A comic: Bar Dog allows her audience to direct the plot of each adventure by letting subscribers write in different outcomes. She then writes the winning outcome.
Double your Intake
Your job isn't done once you've conviced a user to sign-up. Instead of programing an automated "Thank you for singing up!" add some features that allow the user to share this experience on social media and a separate button to email this page to a friend. If you ask and make the action easy people will tend to follow through.
Getting the Word Out
Great, you have a beautiful landing page that's primed for capturing email addresses, now how do you get the word out about your game so people know to look for you?
Are You Part of a Gaming Community?
Being involved with a gaming community, whether it's online or in person is rewarding in and of itself! If you've been active in a community, this is a great group to solicit both financial and promotional support. Don't ask for anything you wouldn't give to another member of the community, and don't join a gaming community solely for the sake of promoting your game this will have the opposite affect you're looking for.
Find your local hobby store and participate in board game nights to meet people who's lifestyle revolves around games. This not only helps you build recognition, but can be a great way to make sure you develop a successful game based on opinons from evangelic game players.
There are wonderful online communities of supportive gamers, one that we are apart of is Indie Game Alliance.
Spend a few months donating to game Kickstarter's you enjoy so when people see your campaign they can see you've been active on Kickstarter. Plus some of those people may donate back to you!
Social Media
Twitter, tumblr, and Facebook are great ways to promote your kickstarter campaign, as your posts can be shared beyond your immediate social network. Just like your landing page, succinct and enticing copy, and an eye-catching image are key for your posts to stand out. Come up with, and use keywords that will attract your target audience.
Twitter
It's helpful if you've been active on these platforms for awhile and already have a following. If not, providing consistent quality content is how you get people to follow you. Don't turn into a 24-hour game-promotion machine, use the 7-1 rule. For every 7 third-party posts(retweets or posting about articles from sources other than you) post 1 promotional post.
Tweets have short lifespans since 5 mins after you tweet your post may not even be visible on your feed without scrolling down. This means you should Twitter frequently, but don't go overboard or even your own friends will block you. We recommend an average of 6 tweets, of course this can be fluctuated depending on events. Always include a photo if possible!
Here's a list of Twitter users we follow that provide killer game content and we recommend viewing for examples of quality content.
Facebook
Facebook is a difficult platform to get organic reach without advertising. That's mostly because Facebook has an algorithm in place that only shares your post with a small percent of people who follow you. This is meant to make a better experience for Facebook users by providing the most interesting content first and also to prevent spam accounts from posting garbag. The more you post quality content that get's engagment the more percent of your fans will see your posts.
If you want to dive deeper into developing your Facebook page, here's an article that provides 13 ways you can boost your organic reach on Facebook.
Media Outlets and Press
Yes, you can receive media help, but you'll have to put in the hours.
Research
First, do research to pinpoint outlets you want to reach out to. These sources should relate to your project and have a high readership. You should always read the sources work so you understand what stories they find newsworthy and what their tone of voice is.
Think outside the box. If your game has a theme – likley it does – you may be able to find other sources that aren't game related, but are obsessed with zombies, cats, dwarfs or whatever your theme.
As mentioned above you should have social media pages. Most media outlets will have a Twitter page and you should too so you can follow, retweet, and converse with their content. Then when you reach out the journalist should be able to put a face to your name.
Thought Leaders
Just like you researched media sources you think fit with your game you should make a list of thought leaders – an authoritive individual within a market that has a large following. Once you have this list you should follow them on their social sites and interact in a genuine way. Writing a comment on their blog post that says "Great post!" is not interacting in a memorable way. Actually contribute to content they share to build a relationship.
Build a Relationship
We've discussed the importance of following an outlet or journalist and actively engage with their content in a meaningful way. Since journalist get more email daily than any of us, mostly pitches, try to connect with them outside the stigmaed inbox. Blog comments and social media are great places as long as you are engaging with them not pitching to them, be respectful.
Meeting journalist face-to-face differeientates you from an email pitch and can make a better impression than text. Go to trade shows, events, or networking parties to get that introduction and ask to meet for coffee to discuss further. Keep in mind you will not get 100% of the press you go after.
Making an Offer
This may be the most important part of getting noticed, provide the journalist with help. First, if possible put together a media kit that answers all the basic questions and have that on your website available to be downloaded by anyone, who knows maybe someone will seek you out.
Instead of pitching your idea present it as a topic that (based on your research) fits with the journalist. The topic should be timely and newsworthy. If you consider yourself an expert in making games offer up your time to do an interview on a relevant subject-matter.
You should also offer any benefits you're able to. Do you have a large fan following you can share the article with? Do you have a site you can link to the authors page?
Linkedin is a great place to reach out to journalist since it's seen as a professionals only hub. Remember your intent is to help the journalist before yourself. Of course, if you've built a relationship on a different platform use that first.
Four Hour Work Week has a must read highly informative Kickstarter prep article especially about reaching the press(step 3). The best part is the free usable templates that helped make their Kickstarter successful.
Reviewers
Game reviewers are a great way of promoting your game. Research reviewers and find ones that are reviewing games similar to yours. This will requires you to send a prototype to the reviewer far in advance of when you want the review to drop. Make sure the reviewer gets a substatial amount of time with your game and ask if they can post their review on the day your Kickstarter plans to launch. If you only have one prototype you'll need to do a little dance to make sure multiple reviewers all have time set for playing your game and coordinate when each review will be posted to keep a steady stream of excitement pointed at your Kickstarter.
We've looked through many game Kickstarter's and these are the more popular review sites we find people have had success with. Click on a thumbnail to request a game review and remember to link to their sites on your Kickstarter!
Written Reviews
Video Reviews
Paid Reviews
Be sure to include a note that mentions your upcoming kickstarter campaign, and the URL of your landing page.
Friends & Family
Don't be embarrased to ask your friends and family for help this every entreprueners first step. Shameless self-promotion is part of the job. Make it easier for this group to share by giving them content, a link to your landing page, a contest link, a great photo of the game.
Send an email out to select friends and family, letting them know you are about to launch a kickstarter campaign to fund the game you have been pouring your heart and soul into. Instead of asking them to pledge to your Kickstarter, ask them to promote the campaign on their social networks the day it launches. Even if five friends help out in this regard, you've quintupled the promotional power through social media, and you are reaching people you don't know through people they trust.
Kickstarter Updates
This may sound like a "during Kickstarter launch marketing plan" but you should alread have planed out your Kickstarter campaign updates to help keep up your fundraising momentum. Some updates will be more spur of the moment, but there are plenty you can have ready to just click send. Kickstarter created a list of 50 update ideas that should get you thinking.
Once you know what your updates will be write them out to completion, add photos and proof read. These updates should be added to your marketing calendar so all you have to do is copy and paste into the message text box, proof read(again) and send.
The League of Gamemakers has some Tips For Prepping Prototpyes For Reviewers, as well as this great video about marketing basics, that gets into paid marketing, which is something we aren't covering here.
You will get a lot of backers on your first day or two, but then activity can drop off quickly. Updates to your backers will keep you in their minds, and encourage them to promote something they support to their social networks, friends, and communities. Updates are also visible to visitors to your kickstarter page, consistent activity on your page will show potential backers that you are invested in the project. Write updates that are relevant and informative. Don't write updates for the sake of updating.
With a well-planned marketing strategy plotted out in advance, you have a much better chance at meeting or beating your kickstarter funding goal! Download this Pre-Filled Marketing Timeline to Increase the Chance of a Successful Kickstarter.
Are you Ready to Launch?
You should have 90% of your marketing complete:
Landing Page
1. Launched landing page (active for 3 months)
2. An easy subscribe to newsletter module
3. A "thank you for subscribing" auto email.
*Remember to make it easy for your fan to share your project with their friends
3. A curated email list from everyone who signed up on your landing page
Social Media
1. Launched social media account (active for 3 months)
2. All(most) written social posts you plan to share during your campaign (third party and promotional) in a calendar format
3. Follow thought leaders (engage for 3 months)
Media
1. A list of media outlets and journalist that fit your game's theme
2. Activly engage with your list through social media and attending events
3. Personalized written message to send to Media Outlets/journalist (not via email) far in advance of your launch
4. Digital Media Kit live on your landing page
Reviewers
1. A list of reviewers that fit your game's theme
2. A personalized email to send to them (each reviewer has different expectations) far in advance of your launch
3. A prototype for them to play with
4. A calendar to make sure all your reviewers get a chance to interact with your prototype
5. A calendar of your ideal dates for each reviewer to publish their review
Pre-Written Updates
1. Basic Kickstarter updates to keep backers excited and in the loop
Other
1. Email to send to your team with instructions on how to promote the Kickstarter and of course thanking them for all their help!
2. Press Release