Fulfilling Backers/Shipping Rewards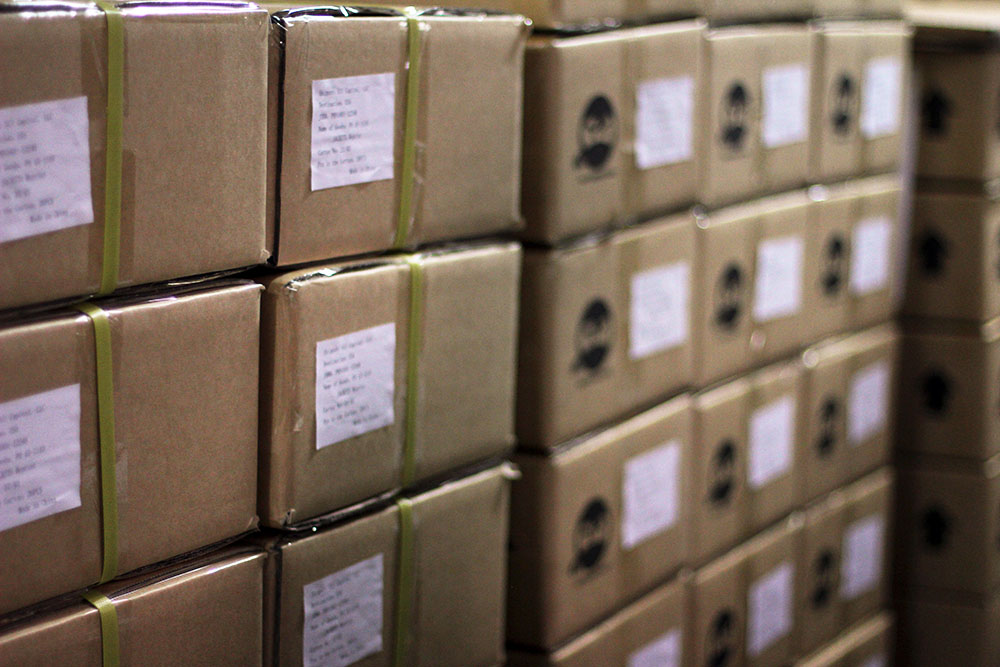 CNNMoney examined the top 50 most-funded projects on Kickstarter and found that 84% missed their target delivery dates (this interactive chart allows you to see how late they were) the median delay was 2 months. Delivering on time goes a long way especially, if you plan to reach out to your backers for future support.
If you've planned out your reward tiers well, they will feature a limited number of incentives that don't complicate your shipping and packaging needs too much. You've also factored shipping and supply costs into your reward tiers, so you are not faced with sticker shock as you fulfill your rewards. This goes a long way in a smooth execution of shipping rewards.
Keep the Momentum Rolling
You just completed a successful Kickstarter campaign, emotions are high and your product is on the forefront of all your backers minds. Leverage your backers excitement by adding a presale or buy now button to your Kickstarter page as well as your landing page to capture late comers.
Keep In Touch
Staying engaged with your backers is key. Post a special thank you video on your Kickstarter, send monthly updates(with photos) about the production schedule, stay active on social media, and keep responding to all your Kickstarter comments.
Quick Tip
This can be overwhelming, one way to ease your capacity is to create an FAQ section on your website where you can direct backers to get more information.
Delivery Date
As the fulfillment date approaches you should have a message ready to send your backers with information on whether they will receive their rewards on time or be waiting longer than expected. If you've been sending regularly transparent updates about the success and failures during production your backers should already have a good idea if you will meet your shipping goal.
Transperancy with Bad News
You're not Amazon, you choose Kickstarter to make a product that didn't exist prior (in most cases) so be upfront about any issues during your production process, even if it doesn't affect your timeline. Your backers will appreciate your transparency, and continue to be engaged with your project.
If you have to send bad news, be clear about what caused the obstacles, if possible share your new shipping date, and finish with some kind of silver lining. ReVault nailed the bad news sandwich (good news, bad news, good news) in this update they shared with backers about their manufacturing issues.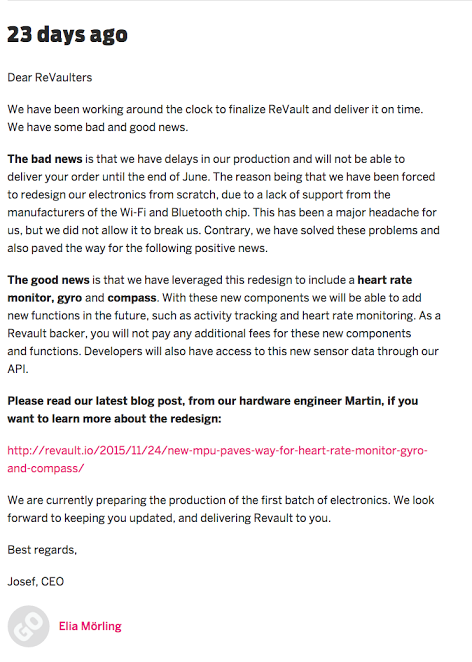 Survey Says
Kickstarter surveys are available to be written as soon as you launch your campaign, and should be written early. However, they can only be sent after your campaign has been successfully funded. Thankfully, Kickstarter designed these surveys with automated features to help you collect your information and send reminds to backers.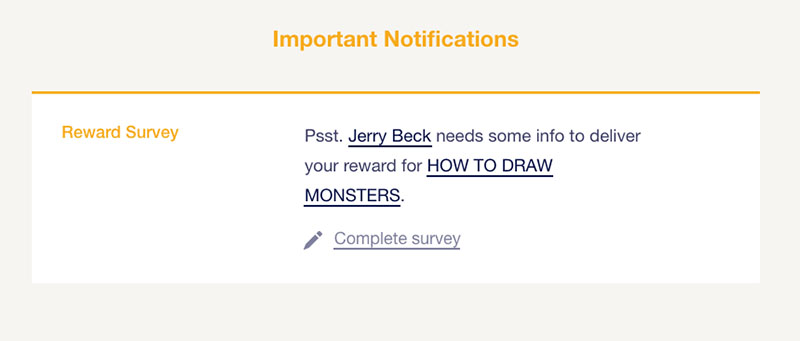 One Chance
You can only send out a survey to a tier once, so be sure you are asking all the questions you need to know to fulfill your rewards (address, size, color).
We recommend sending your first survey to the smallest group of backers, or the simplest reward tier, so you can learn the survey process before sending out more complicated surveys to larger groups of people.
But don't worry, if you left something off your survey you can always send a message to all backers of the same tier through your Backer Report -located in your creator tools menu.
Common Mistake
Keep these surveys simple and direct. Do not request that your backers fill out what reward they should be receiving. You're creating unnecessary work for your supporter who probably doesn't remember and now has to go back through emails to get you an answer that you already have (located in your Backer Report).
Enable Survey Changes
You have the power to give backers the option to update their survey information after they've already submitted. This is important for address changes as backers may move within the time it takes to get their reward (especially if your shipping date got delayed).
Allow backers the ability to change their address so you don't end up with return packages. Then, when you are ready to package and ship rewards you can change your settings back to disalow survey changes.
It's important to point out to backers if they need to update their response they can do so by visiting the product page and clicking the "View Pledge" button next to the product image.
Customize Surveys
You can send out different backer surveys for each tier, so customize each survey for the types of rewards you're sending out (for example, if one tier includes a t-shirt, you can ask what size the backer wears). When you're confident you know when you'll be shipping out a reward tier, send out the backer survey for that tier.
Survey Intent
This survey is intended for collecting information you need to know to ship your rewards. This survey is not intended for collecting marketing information, like "how did you hear about us," in fact, Kickstarter expressly prohibits such questions.
Although it's not a bad idea to collect marketing data throughout the campaign by sending individual emails. Many creators have found success asking those types of questions in the automated thank you email triggered by a backer making a donation. These emails have questions that can collect information crucial for improving your next campaign like, "what about the campaign convinced you to donate?" Now let's get back on topic.
Timing
The timing of sending out surveys can be tough. If you send the survey out as soon as your campaign ends, and it's still months before your game is ready to ship, backers may move, and their shipping addresses may now be incorrect. If you send the survey out too close to when you're planning on mailing out all the rewards, you may get to your packing-party with a lot of unanswered surveys. Then you're fragmenting your work and complicating the process.
We recommend giving your backers a week before you plan on shipping out the rewards. Hopefully this will allow for late repliers.
Be Realistic
A lot of creators shoot to have their rewards and product delivered to backers during a holiday season, it seems like the logical thing to do to create excitment. If possible, do not ship during the holiday season. There are a number of reasons to avoid this shipping black hole, but the two biggest are:
1. Once your packages hit the port they're likely to be stuck there due to over crowding and once UPS/FedEx finally recieves them they are already behind schedule and not prioritized over the thousands of other packages being shipped out
2. People will be counting on your product as a gift (which is kind of the whole reason you choose a holiday delivery date) but now if you're late the frustration is amplifed and on top of that backers may be traveling and may miss the package delivery.

How to Decide to Ship Yourself or Outsource Fulfillment
Fulfillment compaines are responsible for shipping, receiving, packing, inventory, warehousing and customer-service. If that's not daughting to you then you skip down to "Do-it-Yourself".
Depending on the success of your project, proper planning and smooth execution should be enough to get all of your rewards out in a timely manner. But there is such a thing as being "too successful," and suddenly fulfillment can become a daunting process. You didn't design a game so you could spend all day packing boxes, did you?
Using a fulfillment service may be your best option to avoid frustration or delays in completing your commitments to your backers. These companies take over the packing and shipping responsibilities for you, which sounds counterintuitive to the plan of "saving money".
Saving Money with Fulfillment
Companies that ship large volumes of items receive special postage deals with USPS/FedEx that can cut down your costs. They may also have strategically located warehousing to cut costs on postage, especially if they have locations in other countries to help with international shipping.
Of course, you'll have to factor in shipping your items to the fulfillment center, but there are two ways around (or to ease) that cost:
1. Have your printer or manufacturer ship a pallet of your items straight to the fulfillment warehouse. Rather than ship them to you who then has to send them to the warehouses.
You can have your manufacturer ship to international warehouses, which works well if you have a handful of international backers or you plan to have the warehouse store extra for future international orders from your online store.
2. Find a printer or manufacturer that offers fulfillment. You can have these companies split ship some copies to you and the rest can be fulfilled to each backer. If the company is overseas then find out if they can ship direct from their facility, which can save tons of money on international shipments.
Be sure to research these fulfillment companies well to find the one that works best for you. Kickstarter offers a list of companies that can help with a variety of fulfillment needs.
Amazon
This is a popularly used option, but in order to use this service your product and each add-on/reward must have a printed barcode. You'll also need to pack your product according to Amazon's specifications.
If you don't follow their rules, Amazon will ship all your packages back to you, costing you money to ship them back. Some fulfillment companies may have experience shipping to Amazon.
Do-it-Yourself
"Over 50% of Kickstarter and Indiegogo project creators were DIY shippers—they packed and mailed their rewards by themselves (or with a lot of help from friends and family)."
First tip, you're depending on the shipping service of other companies so give yourself some leeway when you determine your shipping deadline. Under promise, over deliver. Your fulfillment method should be decided before you launch your Kickstarter, but sometimes things change.
Packaging, shipping and postage is your magic formula.
Packaging
It doesn't save to skimp on packaging since you'll be responsible for handling customer service and return packages.
For card games or small board games, Priority Mail padded flat rate envelope (12-1/2″ x 9-1/2″) are best. *Domestic Shipping Only
If you have a larger game or need to fit rewards into the same box, try a Priority Mail Small Flat Rate box (5-3/8″ x 8-5/8″ x 1-5/8″). Although if your game doesn't weigh much a regular priority box may save some cents.
* Priority Mail Small Flat Rate Box Covers Domestic and International Shipping
USPS even has a board game specific box that ships regardless of weight. *Domestic Shipping Only
Pro Tip: If you've clicked any of the box links above you've probably noticed you can order up to 20 free shipping boxes from USPS at a time.
Shipping
Keep in mind flat rate boxes aren't always the cheapest to mail things, but they are perfect for heavier items. If you're item is relatively light try Priority Mail. Stamps has a comparison guide to help you determine if Priority Mail or Flat Rate shipping is best for you based on weigh, size an destination.
Postage
Now that you know what shipping method you'll be using you'll need to print out labels for each package. Your home printer will work fine for printing on sticky shipping labels or you can print on computer paper and insert them into sticky form envelopes.
Sign up for a free USPS account to print postage or use third party service like Stamps.
If you're in your Kickstarters pre-launch phase, create some packaging prototypes of your reward tiers weigh them and estimate shipping cost for domestic and most likely international Kickstarter backers.
Free Pick Ups
USPS allows you to schedule a free pick up at your residence. Try to have each tiered rewards packaged and picked up in the same group so you can better keep track of when your backers should be receiving their items.
Packing Parties
Do you have some friends you can count on helping you out in exchange for some pizza? These are your true friends, and can easily become an assembly line for packing up your rewards. Plan a night around it, buy drinks, put on some music, and above all else, have all of your supplies and an packing process set up before anyone arrives.
Package each reward tier at once. There is nothing worse than losing motivation on a project, and nothing is less motivating than stretching out packing up rewards over days or even weeks. Depending on how many reward tiers you have, you may not be able to get all of your rewards done in a single day. Assign each tier its own day or evening, so packing is more manageable.
Pro Tip: Offer your backers a local pick up option to save on cost and thank your backers face to face.