Request a Printing Quote
Choosing offset opens your door to unlimited printing possibilities. Welcome to the new world!
To assist you with all the gritty details and decisions involved in creating your project,
we've built tailored quote forms for each printed product we offer.
Please select which product you'd like to receive a quote for.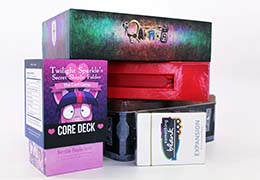 Card Game Quote
Submit your card game request with our easy to use drop down form. This form includes cards, packaging and specialty options, if you need other components use our board game form.