Organize ideas and projects with catalog printing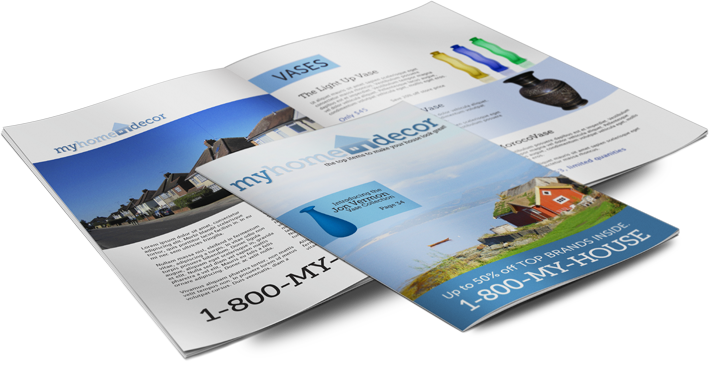 Dozens of small businesses choose PrintNinja for catalog printing that's ahead of the curve.
PrintNinja's quality catalog printing makes it easy and affordable for you to produce a professionally printed catalog showcasing your products and services. Select from a variety of page counts, paper stocks and color options to best show the world what you have to offer. We can also handle mailing your catalog to potential customers, letting you sit back and wait for the orders to come in!
If your business relies on selling products, PrintNinja is here to meet your catalog printing demands at the best prices you'll find anywhere.
Even in this digital age, when websites seem to be the dominant form of marketing, people and companies that rely on the sale of physical goods still need great catalogs to reach their full potential range of clients.
One huge reason for the paper catalog's enduring importance in today's retail climate is the fact that it doesn't require a computer or handheld device to enable browsing, shopping or ordering – in other words, ground mail is capable of making its way to residences and commercial centers that may not have web access.
Furthermore, paper copies of catalogs can be passed along between many potential customers in casual or incidental ways. Placing a catalogue in a busy reception area, for instance, dramatically increases the likelihood that someone who was not even seeking out your kinds of products will flip through and see what you're offering.
Finally, the immediate physical experience of a well-made catalog simply can't be recreated through the Internet. The feel of pages between your fingertips, the classic look and satisfying heft of a bound printed item, the ability to tear out sections or fold corners – all of these sensory moments and possibilities make a true hardcopy catalog unique among sales formats.
As any retailer knows, none of these advantages matter if a catalog looks too poorly constructed to be taken seriously by a consumer or falls apart in transit. However, many entrepreneurs may feel forced to choose between the quality of their product and how many they can afford to print.
This is because most printers that handle the catalog orders of independently owned stores and similar vendors employ expensive digital presses that function with high-cost inks and other materials, passing the price tag off on their customers.
PrintNinja's radical innovation of the printing business model revolves around our full private ownership of offset press facilities. Historically the exclusive territory of industrial-scale printing jobs, offset press operation remains the standard for quality and value.
Our ability to produce and import your catalog order from overseas at minimal expenses means the price you pay for each unit decreases drastically with every increase in total quantity – again, without sacrificing the slightest degree of item craftsmanship.
To complement this groundbreaking new approach, we've designed our website with absolute ease of use and straightforward information in mind. As you finalize the details of your catalog's look and feel, you'll see only the most relevant and available options for printing-related decisions, including:
Paper Choice and Coating (How thin or thick you want your catalog's pages to be, and whether an initial paper treatment prior to printing is appropriate)
Cover Paper and Related Choices (If you want your catalog cover to be made of the same paper that comprises its interior or would prefer a more durable weight or finish)
Graphic Service Assistance (For help with the technical elements of your catalog's design, such as color conversion, proper file formatting and margin layout issues)